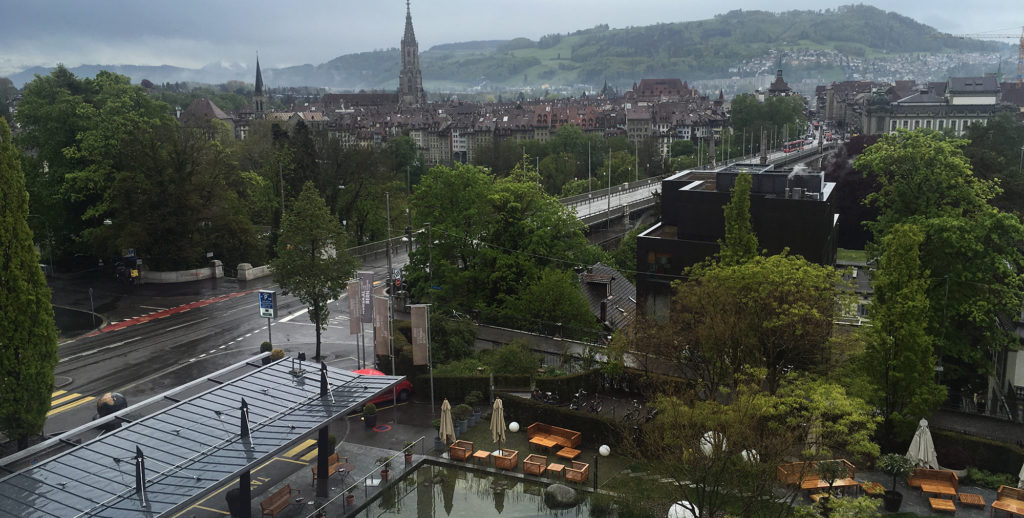 Last week I attended the ALLEA congress, a meeting between all of National Academies of Europe. The topic this year was "Science and Society in Present-day Europe" and so was very relevant to us in EuroScitizen. It was also an opportunity for me to interview a number of inspiring European figureheads, including the Director General of the EU Commission DG Research and Innovation, Jean-Eric Paquet, and the President of the ERC, Jean-Pierre Bourguignon. We discussed next steps on how we can collaborate to promote science in our "post-truth" era and set the groundwork for collaborations with EuroScitizen to advance scientific literacy. Along the way, I met the amazing women shaping science policy. Read more about my journey below."
I was delighted  to attend the ALLEA (All European Academies) congress, co-organised by the Academies of Arts and Sciences of Switzerland and ALLEA, Association of All European Academies. On the first day, I spoke with Prof. Marianna Mazzucato, social innovator, professor of economics of innovation and public value at UCL, author of "The Value of Everything: Making and Taking in the Global Economy". She also advised the EU Commission on Horizon Europe or a mission-orientated approach and co-creation. ALLEA awarded her the Madame de Stael Award. How appropriate, given Mme de Stael herself, was a social innovator in Napoleon's Europe. Marianna was an amazing speaker. I cannot think of a better woman to be introduced by six powerful white men and six (male) musicians. Informally at the apéro, I asked her how she managed to do so much (her twitter says she is also a mother of four). She replied  'Honestly, I don't!". Meanwhile her postdoc, or "Chief of Staff", was traveling with her to advance on policy work for the EU Commission due next week. Her honesty reassured me. We really need these kind of role-models in science. I have already ordered her book!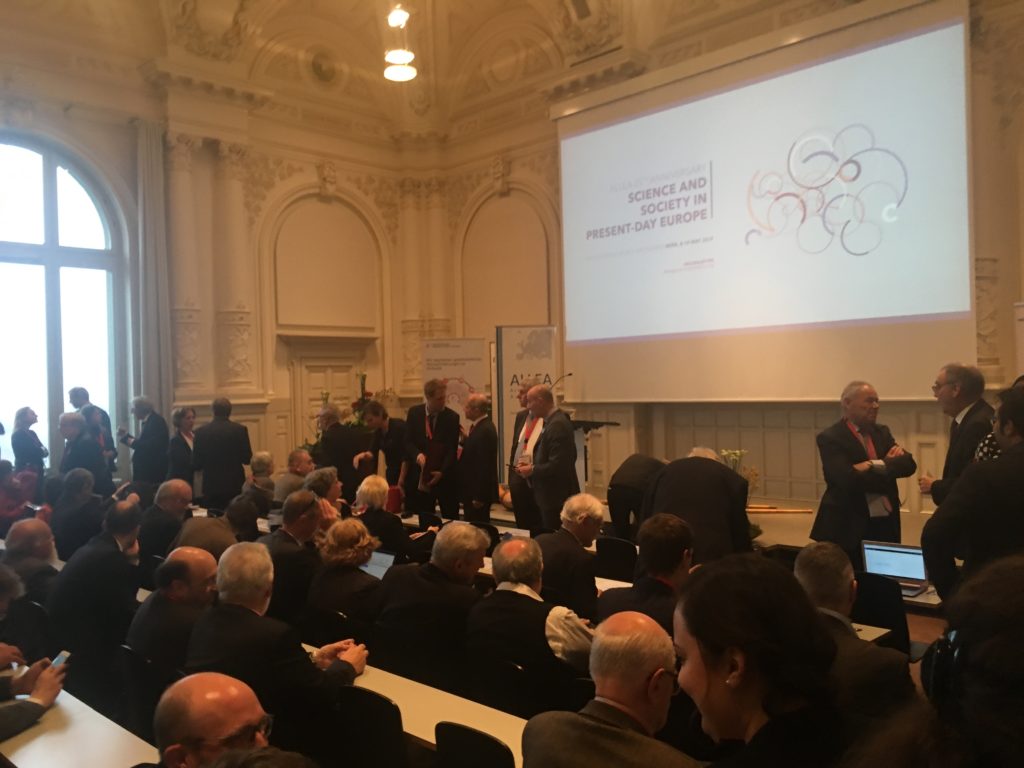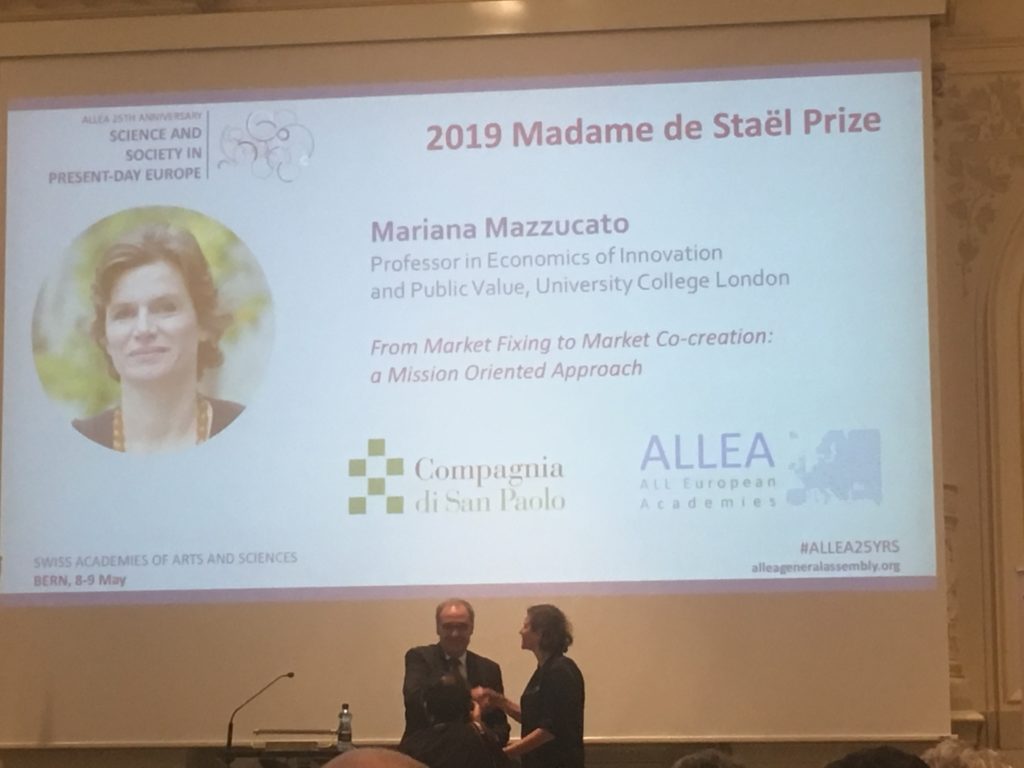 I was also thrilled to interview Director General Jean-Eric Paquet DG Research and Innovation and the President of the ERC, Jean- Pierre Bourguignon. As the Director General's bodyguard kept a watchful eye on me (never trust the Greeks with a mic!) I asked him about what the future of Horizon Europe will be and how Mazzucato's "mission-orientated" approach plans to be implemented. As he replied, he spoke about citizen science and co-creation, which deeply resonated with my personal interests. He then invited me to Brussels to a meeting. As I wrote down who to contact, I looked up and he had already disappeared!
Jean-Pierre Bourguignon had a little more time. In his plenary talk, it was almost like he was reciting our Memorandum of Understanding and vision. I later approached him for the interview and discussed work in WG5 survey on researcher engagement in outreach. He was strongly supportive and asked me to phone him next week to arrange an appointment. He later discussed his interest in art and science and the ERC comics. Great news for Szymek Drobniak, WG 4 leader! I will be following up discussions with both of these important men about the role of scientists in public engagement, research culture and citizen science.
A further notable interview was with Connie Nshemereirwe, yet another inspiring woman.  Connie is an education scientist from Uganda who has reinvented herself as a self-proclaimed science policy facilitator. I have already asked to borrow her job title. She is co-Chair of the Global Young Academy (GYA). She said that she only left academia because she was needed elsewhere to make a global impact. Our mission and approach is very in-line with that of the GYA, which is also a transdisciplinary network driven by passionate young(ish) people driven to make positive change and transform society. We will be continuing discussions with the GYA to see how we can collaborate and maximise the impact of EuroScitizen and GYA globally.
 All in all, a very inspiring two days where I had the honour of representing EuroScitizen. I was delighted to also make some friends along the way and spark new collaborations for EuroScitizen. I would encourage you to do the same!
Tania Jenkins
EuroScitizen COST Action Chair